Port Repairs
We offer all-round repair services in the Amsterdam harbour. Our own repair quay is open to ships with maximum depths of 7 meters. We are authorized to issue official repair certificates, which may be used to reduce the harbour fees.
Steelrepair
Complete overhaul of the mooring winch of the mv"Bona Fighter".
The roller bearings were exchanged and the, by use of a thermic lance, cropped chain stopper roller shaft was renewed.
After the repairs in our workshop the winch was transported to La Coruna.
Our crew travelled to Spain for the reinstallation during cargo operations.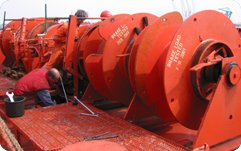 Engine repairs
The master hit a rig after running out of rudder during the night. Our crew took care of the emergency repairs in order to be able to sail the mv"Ostfeld" from IJmuiden to the shipyard in Poland for renewal of the forward section.
The total scope of works, including repairs on internal frames/stiffeners, was delivered in 5 days.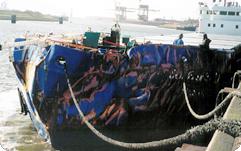 The mt"Suhaili" with its 16 cylinder V-engine called in because of crankshaft damage. After inspection of some of the bearings, the M/E block was separated.
This engine was subsequently lifted and transported ashore, due to lack of storage space in engine room. The crankshaft was repaired, the bedplate machined and finally the engine was reassembled.
The installation of 2 new main engines, including coolers, pumps, cabling and piping (Cunifer on owners order).
Due to the switch to a new engine manufacturer the complete engine room needed to be adjusted.
The vessel berthed near our repair quay, to avoid docking, for renewal of the seal patent while afloat.
The vessel was ballasted as much as possible, to lift its propeller free from water. Then scaffolding was installed and the seal was exchanged. After 24 hour of drying, the seal was checked and the rope protection was reinstalled.
In the end, the scaffolding was removed, the vessel re-ballasted. She left again only 36 hours after she arrived.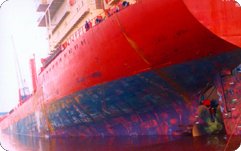 Electrical repairs
This vessel reported a generator failure. Our electrician found burnt windings. The ship's shell was cropped and the generator was removed for repair in our workshop.
After the generator was benchmarked, we reinstalled it and replaced the cropped side shell.
Crane repairs
Due to lifting a heavy load, jib of the mv"Indian Valley" deformed.
The Jib was transported to our workshop ashore, where the deformed section was cropped and renewed. After lining the jib, we welded the jib in a jag and we removed the jag afterwards.
Next we were ordered to install the jib and to carry out a load test.
The results were all in accordance with specifications and got the approval of the class surveyor.